The house was constructed by Ernest Emerson Hart (1892-1945) and Jewell May Lee (1895-1990) in 1915 on or near the site of the log house that his grandfather John J. Hart (1816-1898) built in the 1840s. The house sat on a 2.39-acre tract that was part of the property purchased by John Hart in 1849. Along with an approximately 3.5-acre tract to the east and a one-acre tract to the south, the property was owned by John Hart's descendants until the late 1990s. Several of John Hart's children built houses in the area, including Ernest's father, Josiah Meredith Hart (1857-1957), who built a house about 1895 on Sullivan Road just east of W. Fayetteville Road. It was demolished in the late 1970s.
Several of Josiah Hart's children also built houses nearby in the early twentieth century. Demolition of the Oscar Estes Hart (1875-1940) house in 1989 left the Ernest Hart House as the last historic residence remaining between the airport and I-285. Ernest and Jewell Hart's five children each inherited a portion of the land that Ernest himself had inherited from his own parents. Four of them built houses in the fifteen years after World War II and, for most of the rest of the twentieth century, continued a third generation of John Hart's descendants still living on the land he purchased in 1849.
The Hart Family Cemetery is located directly south of the intersection of Liberty Street and Honeysuckle Lane, about a quarter mile southeast of the Ernest Hart house.  Its oldest graves are those of Ellender Brown Hart (1822-1860), John J. Hart's first wife, and William Jasper Hart (1844-1864), John and Ellender Hart's oldest son. Less than half mile to the northeast of the Hart house is the site of Flat Rock Baptist Church and cemetery. The church was organized in the home of John J. Hart in 1872 and a building constructed a few years later on land donated by John Hart's brother-in-law William Dodson.  The congregation no longer exists and the old church building (c. 1895, remodeled 1946, 1956) was torn down in March 1996, but the cemetery remains intact. Many of John Hart's descendants are buried there.
John J. Hart (1816-1898)
Ellender Brown (1822-1860)
John J. Hart, eldest son of James Hart (b. about 1790, d. after 1850) and his wife Mary "Polly" Wooten, was born 15 July 1816 in South Carolina, probably in Spartanburg County. Six more children followed, the last born in 1833 while they were still in South Carolina. Some time after that, they joined the waves of pioneers that poured into Georgia in the late 1830s and early 1840s as the last of the native Indians were forced from their lands. The first definitive record of the family's presence in the Atlanta area is the record of the marriage of John Hart and Ellender Brown in Campbell County (now south Fulton County) on 29 January 1840. [1]
Born on 10 March 1822 in Franklin County in northeast Georgia, Ellender was the daughter of John Brown II and his wife Mary G. Stovall and the grand-daughter of Meredith Brown, all of whom were among the earliest pioneers in what is now southwestern DeKalb, southeastern Fulton, and northeast Clayton counties, having moved into the area in the mid-1820s. Although the 1840 census records the couple living next door to his parents in Campbell county, John and Ellender are thought to have moved to Henry County to start their family.
Exactly where they settled is not clear, but it was probably near some of her relatives around what are today Conley and Fort Gillem in northeastern Clayton County. Three or four of their oldest children were born there before, for reasons that remain unclear, they decided to move to a new farm five or six miles to the west. In August 1849, Hart paid Henry Wells $100 for the western half of Land Lot 58, 13th District, in what is now northwestern Clayton County and in October paid his brother-in-law William Dodson $100 for the adjoining western half of Land Lot 39, 13th District. By the time the 1850 census was taken, John Hart and his family were living on their new farm, which contained just over 200 acres of land lying across some of the headwaters of the Flint River, including what later was known as Sullivan's Creek.[2] John and Ellender Hart's eighth and last child was born in July 1859 and in August 1860, Ellender Hart died, perhaps of typhoid fever, leaving her husband a widower with eight children, the oldest barely eighteen and the youngest just over a year old. She was the first to be buried in what became the Hart Cemetery.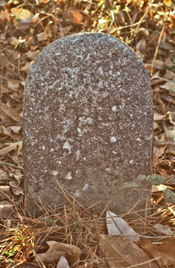 Within a year or two, he had married again, to Elizabeth Morgan (1835-1892), by whom he had four more children. A Justice of the Peace in the Oak District of Clayton County, the Harts were founding members of Flat Rock Baptist Church, which held its first meeting at the Harts' house in 1872. John and Ellender Hart's house was probably constructed around 1850 and survived the Civil War. He and his second wife, Elizabeth, raised their children there and both apparently lived there the rest of their lives. If their son Josiah's memories and drawing of the house are at all accurate (see Figure 5), it appears to have been a single-pen log house with a loft created by the insertion of floor joists two or three feet below the top of the log walls. Simple, unframed, board walls dividing the log pen were often seen in similar houses from that period. John Hart's house may have had much in common with the George Power House or the house at the core of Hyde Farm, both extant in east Cobb County. Whether or not there were later additions, and there usually were with such houses, there was room enough that Ellender's sister Elizabeth, her husband William Dodson, and at least two or three of their youngest children moved in with the Harts while the Dodsons were building a new house in the 1860s. [3]
As far as is known, all of John Hart's children by both Ellender and Elizabeth grew to adulthood. Most, if not all, of them married close to home. Eldest daughter Mary, for instance, married the son of the Harts' nearest neighbor, Willis Wooten, who lived about a half mile west of the Harts. [4] The children also tended to settle close to their parents.  In 1880, John Hart's five grown sons and their families were all living within a half mile of the home place.
In 1892, Elizabeth Morgan Hart died and was buried near Ellender in the Hart family cemetery. John had become incapacitated, perhaps by a stroke although later documents refer to the fact that he "lost his mind" in 1890. He died on 10 December 1898. His grave in the Hart cemetery is marked by a shaped fieldstone marker with the initials "JJH" etched into the surface.
John Hart died intestate, and the inventory of his meager estate, taken in January 1899, listed very little personal property and included only about twenty-five acres of the original 200-acre farm. The rest of the land had been sold over the preceding fifteen or twenty years, some to sons Henry and Josiah. By 1900, four of the oldest of John Hart's children had moved onto greener pastures in Alabama, but final probate of the estate was delayed, when some of the descendants filed a lawsuit, charging that there was fraud in settlement of the estate. No settlement of the suit has been found in Clayton County records, but of all of John Hart's children, only Jim (1850-1914), Josiah (1857-1957),  and Henry (1866-1937)  were still living in Oak District when the Federal census was taken in 1910. [5] By then, too, the old Hart House almost certainly no longer existed.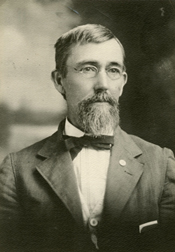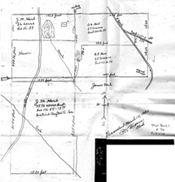 Figure 7. Plat of Joe and Louisa Hart farm, probably drawn by Hart himself, recorded in Clayton County in 1931. (Clayton County Superior Court)
Josiah Meredith Hart (1857-1957)
Louisa Graham (1856-1927)
By the time his father died in 1898, Josiah, who went by Joe, had bought sixty acres of the Hart homestead from his father and half-brother Henry and an additional ten acres nearby.  Many other purchases followed, expanding the farm considerably, although the exact extent of other land holdings has not been fully researched. The farm that Joe and Louisa established there did not depend, as did many others during that period, on the vagaries of the cotton market for its success. Instead, the Harts took advantage of their close proximity to Atlanta to develop a thriving business in fresh produce for the Atlanta market. Producing not only staple vegetables but a wide assortment of unusual and fancy vegetables as well, the entire Hart family was involved in the enterprise of gathering, washing, bunching, sacking and loading produce for the daily 1 AM delivery to Produce Row in downtown Atlanta. 
Louisa Graham Hart was, according to her son Raymond, "possessed with a demanding desire to be the best in any undertaking" and she is remembered as the driving force behind the success of the Hart farm. Early in the twentieth century, she established on the homeplace in her own name South Lake Farm, which bred registered show poultry. Up to twenty-three varieties were raised with the eggs sold to other breeders or incubated and hatched on the farm.  Between October 1911 and January 1912, South Lake Farm poultry won seven first place ribbons at three different poultry shows in Macon and Atlanta.
In June 1927, the Harts' youngest son, Raymond, married Winnie Burks. Less than two months later, Louisa Hart died and was buried at Flat Rock. By then their eldest child, O. E. Hart, was the only family member still working the family's truck farm; the rest had moved on.
For most of the rest of his life, Joe Hart lived with Raymond and Winnie. He remained extremely active, serving as Justice of the Peace, 144th Dist. G.M., Clayton Co., until he was nearly ninety years old, as well as serving fourteen years on the Clayton County Board of Education. During this time, he employed his considerable skills in producing an official county map for Clayton County, which is preserved in the office of the State's Surveyer General. 
In 1931, he compiled a row-by-row survey of Flat Rock cemetery that now, over sixty years later, allows identification of many of the over two hundred unmarked burials there. He also kept many notebooks and other records on the history of his family, Flat Rock church, and the old Oak District of northwest Clayton County. His reminiscences from a long and varied life are outstanding for their insights into life in the early years of Clayton County history.
On October 24, 1957, six months after his 100th birthday, Joe Hart died at Battle Hill Haven sanitarium in Atlanta.  He was laid to rest next to his wife in the cemetery at Flat Rock.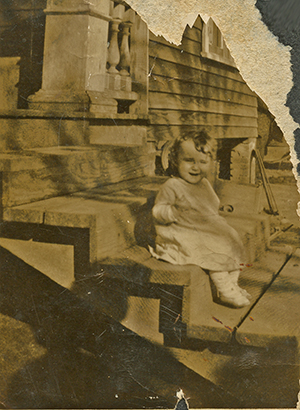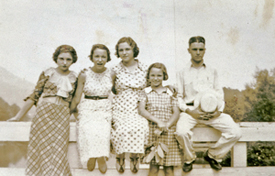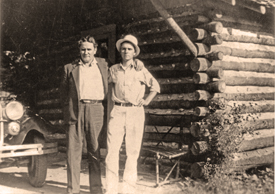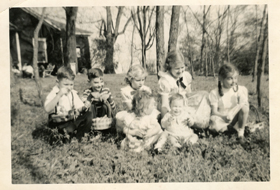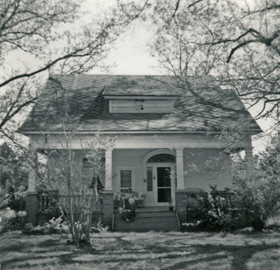 Figure 14. View of Hart House in 1965, after addition of asbestos siding and other alterations in the early 1950s.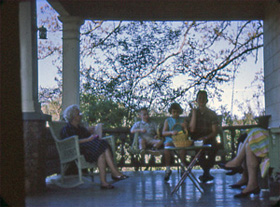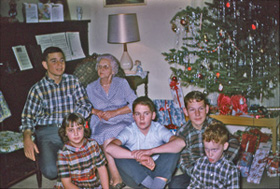 Ernest Emerson Hart (1892-1945)
Jewell May Lee (1894-1989)
Ernest Emerson Hart was the seventh of Joe and Louisa Hart's eleven children, ten of whom lived to adulthood. He was born on 27 February 1892 and grew up working on his parent's farm in northwestern Clayton County. On Christmas Day 1913, he married Jewell May Lee (1894-1989), daughter of Ipson and Tommie Eidson Lee, who lived on what is now Washington Road just north of Camp Creek, three miles northwest of the Harts as the crow flies.[6]
They first rented a house off Riverdale Road, a short distance northwest of his parents' house, and he continued to work on the family farm, which was then doing a thriving business growing and supplying produce for the market in Atlanta. Their first child, Ernest Maurice, was born on 14 September 1914, by which time they may already have begun planning their own home.
Why they chose to build on or near the site of his grandparent's house is not known, but the home site with its old oak trees and a view of Sullivan's Creek was a natural choice even without the family associations. Since Ernest was no builder, he hired his aunt Susie's husband, James Monroe Phillips, a carpenter by trade, to build the house. For the masonry work, including the massive central chimney that served all four fireplaces in the house, he hired Jewell's brother-in-law Benjamin F. Tankersly (1889-1925), who had married Jewell's older sister Clemar in 1911. Ernest and Jewell's new house was probably complete and they had moved in by the time their second child, Ruby Hazel, was born on Valentine's Day 1914. [7]
Ernest continued to work on the family farm for a few more years, but he must have already developed an interest in mechanics and short-wave radio even though he still listed his occupation as farmer in the census of 1920. By then another daughter, Ruth, had been born; two more, Iris and Melba, followed in the early 1920s. Like the rest of his siblings, except for his oldest brother, O. E., who continued to work the family's truck farm, Ernest had turned away from farming and was working as an automobile mechanic. In the late 1920s and the 1930s, he was employed by Mavis Bottling Company and, for a longer period, by Barrett Food Company in Atlanta.
Ernest and Jewell's daughter Ruth married Luther Creel in 1937 and gave them their first grandchild, Manya, in 1938. By then, Ernest had turned to the installation of well pumps for his livelihood. He was the Atlanta distributor for Dayton Water Systems well pumps which he generally installed himself, often with the help of his son. He still worked often as a mechanic and during World War II spent a year in San Juan, Puerto Rico, as a civilian mechanic with the Army.
As the war drew to a close, Ernest Hart was back home, selling and installing well pumps. On 14 May 1945, he was installing a pump at a residence on Belle Isle Road in North Atlanta when he suffered a fatal heart attack. He was buried two days later at College Park Cemetery.
Jewell Hart lived on in the house after her husband's death. Ernest had installed a generator for electric lights even before the REA brought the power lines in 1937. A pump was installed to the spring, eliminating the laborious trek down the hill and back up two or three times a day. There was even an in-door bathroom after 1942. Iris married in 1941 and moved away, but when Melba married in 1946, she and her husband Lawrence Dailey moved in with Jewell. Over the next few years, they completely renovated the house, creating a duplex with Jewell occupying the three rooms on the east side and the Daileys the three on the west.
The Daileys moved into their own home just up the road in the late 1950s, and Jewell once again had the house to herself. In the 1960s, the Daileys built a new house just southwest of the Hart House and because of that, Jewell was able to live in her own house for the rest of her life.
Beginning in the early 1950s, the large oaks which had shaded John Hart's house before the Civil War began to fall, and by the time the house was razed in 2001, most of them were gone. The huge red oak on the east side of the house survived as did an ancient post oak in the triangle at the driveway entrance and the walnut at the back door which was said to have been planted by John Hart's daughter Susie just after the Civil War. In 1974, one of the large oaks that shaded the west side of the house house blew down in a storm, demolishing the northwest quadrant of the front shed of the roof, including half of the porch below. Two brick piers and their wooden box columns had to be reconstructed as did much of the front half of the roof, although without the original, windowless, shed-roofed dormer on the front shed of the roof. All four of the balustrades were salvaged, but one of the four was subsequently stolen, so that the balustrades from the remaining three were spaced over four reconstructed balustrades.
Jewell Hart died on 3 November 1989 and was buried next to Ernest in the College Park Cemetery. The house remained mostly unoccupied after her death, although Melba and Lawrence continued to maintain the property as they always had.
The Airport
Plans for a fifth runway at Hartsfield-Jackson International Airport were already underway before Jewell's death. Originally developed in the 1920s on the site of an abandoned automobile race track, Atlanta's airport was the nation's third-busiest as early as 1930. By 1957, it was the nation's busiest airport and expanding rapidly. A new terminal opened in 1961, but it was necessary to begin construction of a new midfield terminal in barely fifteen years later. In 1982, a fourth runway was added, and ten years after that, the Federal Aviation Administration began an environmental impact statement (EIS), required by the National Environmental Policy Act, for construction of a fifth runway.
In October 1992, required archeological testing was conducted on the Ernest Hart House site and the nearby Hart family cemetery as well as three prehistoric sites that had been located in another part of the runway's impact area. Conducted by archeologists from Garrow and Associates, the work attempted, unsuccessfully, to locate the exact site of John Hart's original log house, which the family always believed was more or less where Ernest Hart built his house in 1915. However, around that time, a number of large stones were located about seventy-five feet south of the Hart House. Most of these were of a type that were typically used for stacked-stone piers upon which to build log houses in the early years of white settlement of the area. One, however, was much larger than the rest, over two feet in diameter and three or four inches thick. What were clearly man-made grooves had been worked into the stone in a manner to facilitate tying chains or ropes so that it could be dragged some distance, probably from the creek at the foot of the hill. This may very well have served as the door step for John and Ellender Hart's log house. Most of these stones as well as the smaller stones that had been set upright as a border to the triangular bed at the old driveway entrance were removed to 394 Sinclair Avenue in Inman Park, Atlanta, where they were used for landscaping the rear yard.
The EIS included not only natural resources but historic and archeological resources as well, and a number of such resources were identified in the study area, which included most of the area betweeen the existing airport and I-285 as well as a large area outside I-285. The Ernest Hart house had already been identified in a 1977 state survey as a property that was potentially eligible for listing in the National Register of Historic Places, and in 1994, the FAA signed a memorandum of agreement with the State Historic Preservation Office stipulating that the house would be recorded by the Historic American Building Survey prior to its proposed demolition. That agreement also specified that preservation plans would be developed for both Flat Rock Cemetery and the Hart family cemetery.
Construction of the fifth runway began in May 2001, and by then the Hart House had been photographed and documented by the Historic American Building Survey, as required by the memorandum of agreement. As stipulated, both cemeteries were preserved in situ. Doors, mantels, and leaded-glass windows from the Hart House were salvaged by Melba and Lawrence before the it was finally demolished in December 2001.
Figures 21-24. Clockwise from upper left: view south, view west, view north, view east. (Historic American Buildings Survey, Library of Congress)